# let's Grow Your Hand
Data Protection Officer as a Service
Sidestep the difficulty of appointing a DPO internally, and the cost of hiring, and ensure your continuous compliance and total data safety.
Know how we do it
Our approach
Our DPO As A Service offering injects privacy expertise into your business, to ensure that regulatory compliance is achieved and data is appropriately handled.
The needs of data protection are varied, so too are our DPO as a Service offerings. Whether you need a DPO, as dictated for certain organisations as set out by the GDPR, or simply an additional privacy specialist as support for your business, our approach ensures that your organisation adheres to the appropriate data privacy and IT security expectations.
Abhedit offers a wide range of services connected to our DPOaaS offering:
Know how we do it
Challenges
Organisations can often find regulatory compliance with data protection to be a daunting and confusing task, as the privacy landscape is still new and ever changing. Depending on your business and organisation, your need for everyday consultation with a privacy expert may vary. However, regardless of the size of the company and the complexity of the data processing, we still see the same common challenges for many companies, being:
Incorrect application of regulatory frameworks, leading to increased risks.
A lack of appropriate training for employees within the organisation.
Insufficient monitoring regimes and controls within the organisation.
Insufficient consideration of privacy in the development of new processes or systems, and hence risks are magnified.
Data Privacy Assurance Service includes:
More than 90% of our customers worldwide choose VAPT (Vulnerability Analysis and Penetration Testing), one of the most popular cyber security services, from Abhedit, which offers extensive technical services in India. During a penetration test, we pretend to be hackers and go far into the systems to look for flaws.
It is strongly advised to perform penetration testing to identify weaknesses and the strength of the application, which has become one of the most fundamental criteria in cyber security services.
This team is now at your disposal to thoroughly evaluate your systems and apps using the best cyber security techniques and tools.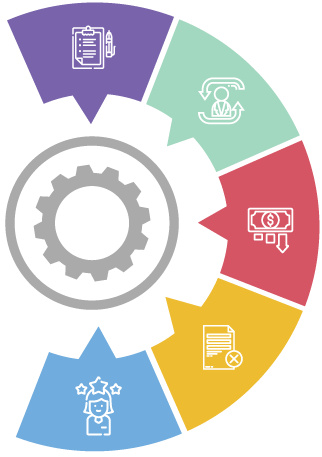 Know how we do it
Benefits of An Outsourced Data Protection Officer
Helping develop a greater understanding of the requirements of higher education's data processing
Meeting the independent requirements of a DPO without compromising existing internal duties or roles
Reducing overhead costs associated with employing an internal DPO
Eliminating key personal dependency risks related to an internal DPO
Quick access to specialized, skilled, and experienced consultants in the event of a personal data breach, supervisory authority investigation, or other privacy impact events
Our latest thinking on technical services consulting